FEBRUARY 2019 ISSUE
Sihle Ndaba covers the February 2019 issue
---
NOTE: You need to buy this issue before you can read it. Scroll below to select your purchase.
---
December 2018 - Issue 6
AYANA-6THED-211218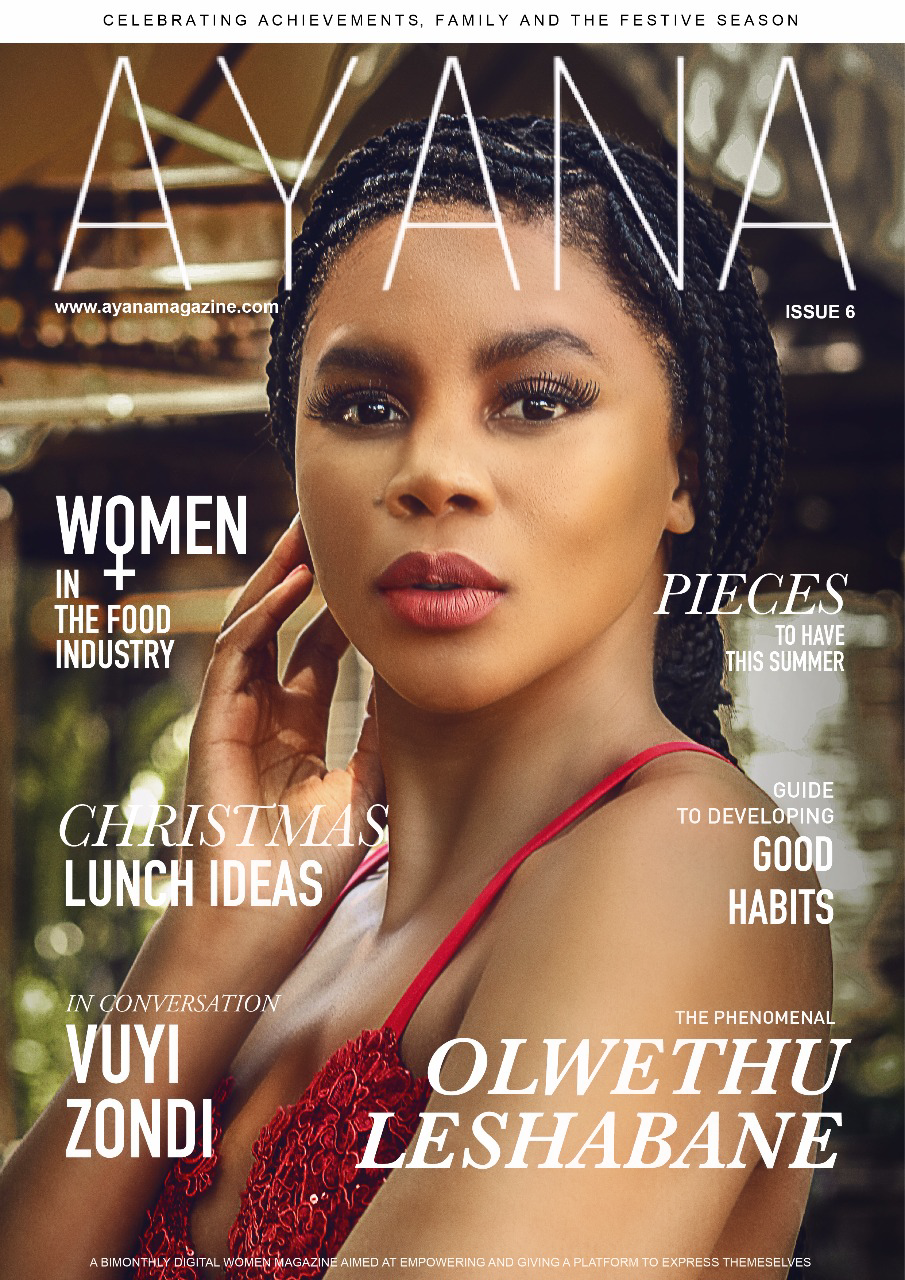 The official 6th Ayana Magazine Issue
Read here: www.mag.ayanamagazine.com/december-2018
Date: December 2018
Publishing Manager: Duduzile Ngwenya

Editor-in-Chief: Hloniphile Mkhanyawo
---
EDITOR'S NOTE
Ever been tired at the thought of the holidays? Is that some phase that comes with age? How many of us are already planning on spending NYE indoors in our gowns and sippin' on some bubbles? No? Okay maybe it's just me.
As I write this, December just rolled in, and I'm already over it. I was at a concert with my boyfriend held during the first weekend of December and mid-way through it, he taps me and says "eh mbhem awucingi ukba sihambe ngoku?" It was barely halfway through the concert and we were already THROUGH it. We were tired, sleepy and our feet were throbbing. Don't get me wrong, the event was a blast, but fatigue came out to play. Quite frankly, we would've enjoyed it just as much on tv in the comfort of our couches.
You would think that the December holidays are a time of relaxation as most people are off from work and its vacations galore; yet you find that it becomes one of the most stressful times not only financially but emotionally, too. So much effort goes into planning and spending that we end up forgetting to just…enjoy. Buying gifts, fighting traffic, turn up after turning up, cooking feasts, sweating in the heat, dodging nosey family members, etc etc.
In this edition, one of our articles "Healthy mind, healthy holiday" deals with how your mental health should be your number one priority especially during such a taxing time. Those family gatherings some people look forward to? To some they are a nightmare. The probing questions, snide remarks, intrusion and straight disrespect – I say, may the force be with you.
Overall, I wish our readers a blissful and calm holiday season. May we all be safely reunited again next year with our livers intact.
HAPPPYYY!
Love,
HLONIPHILE MKHANYAWO
EDITOR-IN-CHIEF

Twitter/Instagram: @sheishloni
---
READ ISSUE HERE: www.mag.ayanamagazine.com/december-2018